Your ability to succeed in the restaurant business depends on a number of things, including good food, excellent customer service, and a pleasant environment. Without a restaurant POS system or restaurant management system, many businesses attempt to provide a memorable experience.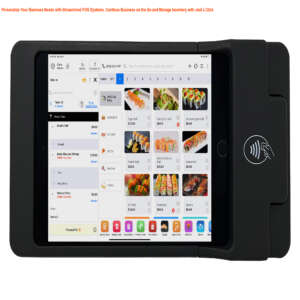 Make an informed decision based on your study to ensure that your new restaurant POS system will enhance your business' operations and bottom line. Look for the following traits and features in the business and the solution they may offer when looking for an appropriate POS partner:
Growth History

industry-specific expertise

trustworthy profit margin

dependable partner

technological assistance

security components

Ordering and tableside payment alternatives
A Point of Sale System: What Is It?
Restaurants often employ a point-of-sale (POS) system, which is a combination of hardware and software, to take orders. A restaurant POS system is part of a restaurant management system, but it also offers more:
A productive management tool that integrates pay and order options, tracks inventory, manages timesheets, and more to speed up operations for your team.
You can boldly step into the role as a leader and make sure you're offering a functioning and productive work environment thanks to features that help your workers and link you with your devoted clients.
Let's first go through what to look for in a restaurant management system before discussing how a POS system may make your company modern and successful.
A Restaurant POS System Saves Time and Money for Your Restaurant
When running a business, you must manage your time and resources carefully. A restaurant POS system leverages resources and saves time in this situation. This programme keeps track of in-depth sales metrics and can help you identify the menu items that are most and least popular. With this knowledge, you can come up with fresh ideas on how to draw attention to less well-liked foods or replace them with an alternative. Additionally, altering or condensing your menu might save inventory expenses and prevent you from over-purchasing unnecessary items. By automating the payment and ordering process, a restaurant POS system also saves staff' and customers' time, resulting in a stress-free environment for everyone associated, which is exactly what you need to maximise revenues and performance.
Anywhere, Anytime, You Can Check In
You can easily achieve peace of mind by using a cloud-based reporting solution. You can access reports and data from any device using POS reporting software that is cloud-based, which makes it easier for you to manage your firm. You may pull out your phone and examine your most recent analytics, for instance, if you're on the road and need to check on today's sales report.
Total Touch restaurant POS system is a hybrid point-of-sale system that provides cloud reporting capabilities in addition to on-site data entry at your bar or restaurant.
Reduces employee error
There will occasionally be errors, as there will be in every restaurant. Unfortunately, if these errors go uncorrected, unhappy customers will spread and reduce your restaurant's profitability.
A POS system can help in this situation. By using this technique, you can reduce unneeded mistakes. The majority of restaurant POS systems track sales activity, which makes it simple for you to keep staff members accountable for their actions. Allow the system to handle expenditures and inventories so that your employees can concentrate on what really counts – giving your customers a memorable experience!
Get Reliable Business Reports
Making wise judgments will help you expand your restaurant or bar. A restaurant POS system offers useful analytics, such as low stock quantity, top-selling products, and peak hours. The information can be used to change happy hours, your menu, and inventory records. It's an effective method for helping you maintain consistency with your professional objectives without putting in more work!
The Customer Experience is Improved by a POS System
Customers value a seamless experience, which a POS system can provide. One method to improve the experience for individuals wishing to place an order from your restaurant is by streamlining the ordering and payment procedures. Look for point-of-sale (POS) and restaurant management software that supports web, contactless, and mobile ordering.
The best systems also provide you the ability to build a loyalty programme and buy gift cards, which will motivate your visitors to pay you another visit.
A restaurant POS system streamlines restaurant management while enhancing the in-person and online experiences of customers. A win-win situation! 
As the leader, you have a lot on your plate, including hiring employees, maintaining inventory, and monitoring sales. But what if you could do these duties using an automated system? Without having to deal with unimportant duties, you may concentrate on your goals and give your team more decisive leadership. A POS system may streamline operations for you and company staff, revolutionize your business, and relieve you of stress.