The modern restaurant manager must consider three things before he or she decides on a POS system for restaurants. The two existing POS types, Legacy and Cloud, both offer the exact same functions (to gather and calculate fiscal data) but each has important differences in the way the information is stored, accessed and personalized.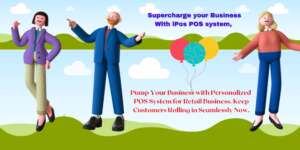 The advantages of buying a Legacy system are essentially less dependency to the web and greater personalization possibilities. For the following reasons, I am a big believer in Cloud POS (because they are essential to the success of your business).
Accessibility It is essential to be in charge of your earnings and the most vital KPI's from anywhere at any moment. It is also good to be able to view the data from several devices and allow your team-mates to access the data. The restaurant owner is going to be able to concentrate on the proper issue at the right time, and make quick decisions, because everything is easily accessible.
Analytics Excel is and is going to be the top program for data analysis for SME's. Today, however, all POS systems need to have integrated analytics sections. Based on Harvard Business Review, data informed decisions raise the likelihood of being correct 3-fold. This can only be done if a business computer knows how to answer business questions automatically.
The following are the must-have analytics features:
Revenue evaluation hourly, week, day, month and year.
Product categories as well as single products tend to be the top / flop promoting product categories and products.
Analyzing the profit margin on each product.
Employee efficiency.
Integration / Interconnectivity
All delivery services have to be linked to one another: reservation systems, stock management apps, loyalty programmes, ordering apps, etcetera. ResTech, the restaurant technology services industry, is democratizing the use of cutting edge innovation to better handle an incredibly complex business. However, a lot of restaurant owners are complaining that the apps can not speak to each other. The Application Programming Interface or API enables the connection and data flow of the majority of ResTech apps. Thus, in case the POS system for restaurant has an API and links to particular apps (e.g. Lightspeed), the restaurant owner is able to take advantage of many more solutions. This kind of functionality has the competitive advantage over the competition right now and will be the norm in a few years. Be prepared, therefore!
Not surprisingly, a POS system for restaurant must be an enabler for success. It is time to change this software if the manager is suffering from more headaches than benefits.