POS systems have already garnered a massive amount of popularity among businesses across the globe. The new trend is Cloud-based POS systems now. 
Evolving more with advancement in technology, POS systems have shifted from being integrated into physical systems to cloud technology for better productivity. 
Cloud technology has largely affected our lives by enabling us to store our photos, documents and what not so on the cloud server. However, cloud based POS systems are of absolute help, especially for small businesses. 
The best part is that you do not need to be tech-savvy to embrace this spectacular technological advancement. Cloud based POS software offers significant leverage compared to conventional POS systems. 
Let us analyze how advantageous are the cloud based POS systems and how do they work.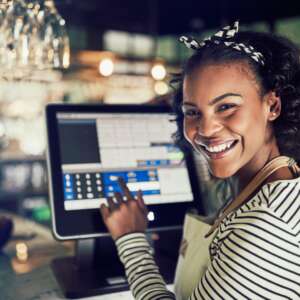 How Do Cloud Based Online POS Systems work?
Cloud technology is rapidly embedding into different kinds of small, medium and large businesses nowadays owing to the benefits associated. From mobile phone services to emails, everything is being embraced by cloud technology. However, the best use of it can come with point of sale systems. POS retail systems help you in making the checkout process much simpler and easier and offer insights on valuable sales data that boosts your business. 
When a POS system is cloud based, it means the associated software of the point of sale system is stored on the cloud server. Cloud services need only the internet to access the data stored on remote servers rather than storing it in your hard drive or store server. 
This SaaS module of Cloud based online POS system helps users in updating the software or services on the server and the change is immediately accessible for all users using the POS system. This is far more convenient. This way your online cloud-based POS system keeps on getting better every time you install a new update of the software version. 
Merchants using Cloud-based POS systems, everything from sales data to inventory tracking and revenue stats are stored on the server rather than physical POS terminals. Compared to a conventional POS system, this gives access to all the important data remotely via the internet and even if your POS system goes down, all your data and metrics is still accessible on the cloud server. 
Types of Cloud-Based POS Systems
There are mainly three different types of cloud-based POS systems with only difference to the hardware being used to access the cloud platform-
Mobile POS Systems– mPOS or Mobile POS systems rely on smartphone or tablet devices to access the POS app. These mobile POS systems are ideal for merchants with pop-up stores compared to businesses with brick & mortar locations. For using Mobile POS systems, you need to add more hardware devices to your smartphone or tablet such as card-readers, devices for printing receipts and so on.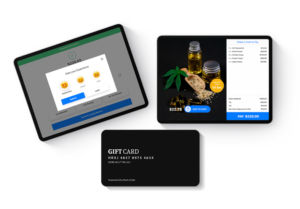 Online POS– Online POS system would require you to use hardware such as laptop or desktop at the store counter. This is ideal for small businesses as the POS entirely automates the process and business transactions are done more smoothly. This might cost you a bit on the lower side than the terminal, but you still have to buy hardware such as card readers, barcode scanners, printers and few more. 
Terminal POS- Cloud based POS terminals need access to the internet to connect to the POS software. This is more helpful when you are integrating other hardware to the POS terminal such as card readers, barcode scanners or printers. However, the most liked ones are the online POS systems.
Benefits of Cloud-Based POS Systems
Now that we know what are the types of cloud-based POS systems, how do they work and what are these POS systems, let us dabble into how beneficial they are to every business type-
Remote POS System Access & Other Apps Integration: When you have a social media account or even your email account, you can access it anywhere just using the credentials online. This same goes for these kind of POS systems. You just need an internet-enabled device and Boom-you're all set. You can also download apps that can give access to your POS system's account
Not just getting access to the data, but you can keep track of your inventory, sales revenue, customer likings-everything anywhere with the internet. So, even if you have multiple stores in different locations, you can access all your data right at one single place. It integrates seamlessly to the cloud-based POS.
Auto-Update Feature: Auto-update is another feature we have already alluded to whenever we use our smartphones. The developer upgrades, fixes or puts up with any new update on the cloud server and people using the POS system get access to the updates instantly. The auto-update feature is absolutely helpful for SMEs to run their businesses smoothly. With the auto-update feature, your POS system will never be outdated compared to conventional ones. 
Superb Security: You might be pondering that your data is unprotected as it is stored offsite and on a cloud server. But it isn't so. Cloud servers are more secure than ever. Cloud servers take security more delicately and have special precautions in place to prevent the loss of your data. This isn't the same with on-site or local servers. 
Low Upfront Charges: For conventional SaaS solutions, you need to pay a recurring fee and significant upfront charges. However, for cloud-based POS systems, the upfront charges are nominal and you can also pay just a fraction of the upfront charges if you tie up with National Retail Solutions. 
iPosos offers the most competitive monthly fees compared to counterparts in the market. Also, businesses need to pay for the hardware systems in case of POS terminals but this isn't the case with cloud-based online POS systems. 
Conclusion
With cloud-based POS systems, you can not only lower the charges associated, but can boost productivity as well. They come with reliable security and better integration with other essential apps. Subscribe our cloud-based POS systems and evolve your business in an enhanced way than ever.